Welcome to Tech Talk
With Dan Harley!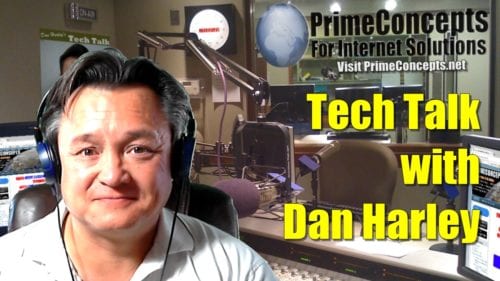 If you ever wanted to know how to build a web site, do SEO, how a smart phone app can benefit your business and many other business technology applications then this is the podcast you will want to subscribe.
Dan Harley has decades of experience in electronics, computers and Internet technologies. Dan has helped hundreds of business owners and managers navigate through their technology turning these headaches into valuable and effective business tools. Dan and his guests discuss various business technologies, explain what they do in plain English and how it can be applied into today's business environment.
You're just a few clicks away from learning how to master technology that will help your business succeed. Listen to all the episodes of Tech Talk With Dan Harley right here on our web site or subscribe to the podcast on iTunes or in any of the popular podcast directories.
Latest Episodes:
Podcast: Play in new window | Download (Duration: 50:54 — 50.7MB) | Embed
Subscribe: Apple Podcasts | Android | RSS
This is #1 in a series of segments for my online course; "Free & Almost Free Ways To Advertise Online". This episode introduces the course and I go through an online demonstration of local business listings. I also review a local business listing baseline report that is free to create and access on PrimeConcepts.net. Link […]
0 comments