Podcast: Play in new window | Download (Duration: 1:21:53 — 88.7MB) | Embed
Subscribe: Apple Podcasts | Android | RSS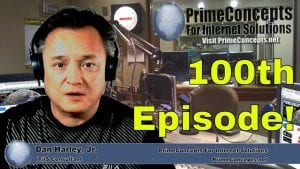 This is Episode #100 of Tech Talk with Dan Harley. I celebrate the 100th episode with a friend who was my counterpart in Technology Tuesdays. We talk about the past show, what I've done with tech Talk and what I plan to do in the future.
NOTE: I have a SPECIAL OFFER for those who watch or listen to this episode.
Try Carbonite Cloud Backup System FREE for 15 days!
Try Constant Contact 60 Day FREE TRIAL:
Try HostGator Web Hosting For As Little As $3.95/month (LINK TO EMAIL HOSTING )
Other GREAT Offers
Try Hootsuite For FREE! (Social Network Management)
Try Flok Customer Loyalty App System FREE For 7 Days!
Try RoboForm Password Management System For FREE!: