Podcast: Play in new window | Download (Duration: 50:54 — 50.7MB) | Embed
Subscribe: Apple Podcasts | Android | RSS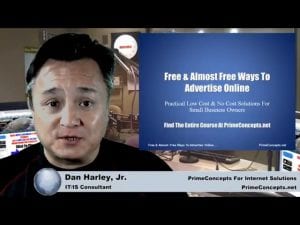 This is #1 in a series of segments for my online course; "Free & Almost Free Ways To Advertise Online". This episode introduces the course and I go through an online demonstration of local business listings. I also review a local business listing baseline report that is free to create and access on PrimeConcepts.net.
Link to the FREE online business listing report:
NOTE: I have a SPECIAL OFFER for those who watch or listen to this episode.
Need An eCommerce Web Site? Try Shopify FREE For 14 Days
Try Carbonite Cloud Backup System FREE for 15 days!
Try Constant Contact 60 Day FREE TRIAL:
Try HostGator Web Hosting For As Little As $3.95/month (LINK TO EMAIL HOSTING )
Try Hootsuite For FREE! (Social Network Management)
Try Flok Customer Loyalty App System FREE For 7 Days!
Try RoboForm Password Management System For FREE!: